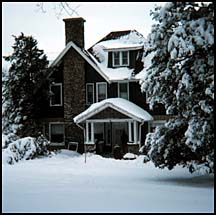 The Family Home , (winter 1970s)
Biographical notes:
The artist Tim Slowinski was born October 5, 1957 at a hospital in Orange, New Jersey. The artist was born feet first and on birth appeared suffocated. Doctors slaps would not revive him and his mother began to pray to the Virgin Mary. Shortly thereafter he began to breathe. A few days after birth, the artist was taken to his boyhood home in Caldwell, New Jersey.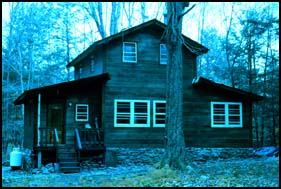 Slowinski's home in the Catskills
Notes about the Cabin
Drawn to the visual arts since early childhood, the artist was penalized in early scholastic years for his habit of chronic drawing. His full time dedication to the craft of painting began in 1976 with a series of dark, frenzied, expressionist works. In 1980 the artist moved to a remote area in New York's Catskill Mountains, there he developed his unique style of painting.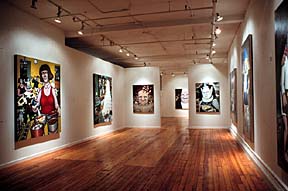 Slowinski at Limner in Soho, 1995
Slowinski's first solo exhibition in New York City was a large club show at the Cat Club on E 13 St. in 1985. Following this show, he was invited to exhibit at the S.R. Rage Gallery on E. 9 St. in 1986. Since 1987, Slowinski's paintings are featured in yearly solo exhibitions at the Limner Gallery as well as in various National and International group exhibitions.
Notes on the work:
Slowinski's work is self reflective, but not only for the sake of personal analysis. He uses personal psychological exploration as a tool to explore contemporary social and political issues. A lover of the comic and absurd, his humor presents messages with a humor that lends objectivity to both himself and the viewer.

Slowinski's work has not been placed in a contemporary category. Completely self taught, he intentionally avoids all outside influence and works only from his imagination. He refuses to work from real objects because he believes, "every technique and style of painting has already been perfected, the only remaining frontier to be explored is the one inside the mind."

During the early 1980's Slowinski exhibited extensively in local and regional Catskill galleries. In 1983 a solo exhibition of his work was held at the Seton Hall University Gallery in South Orange, NJ. His first New York City solo exhibition was at the Cat Club on E 13 St. in 1985. Following this show he exhibited at the S.R. Rage Gallery, on E9th St in 1986. His work has been a yearly solo feature at the NYC Limner Gallery since 1987. He has also exhibited at the Bronx Museum of Art, Carla Stelweg Gallery, NYC, Gallery Stendahl, NYC, The Fusion Art Museum, NYC, The Williamsburg Art and Historical Society, Brooklyn, NY, Cartoon Gallery, Barcelona, Spain - and David Tunkl Fine Arts, Los Angeles, CA

Slowinski's paintings have been featured in various magazines including: Art! Alternatives, Hot Lava, Juxtapoz, New Art International, Raw Vision, Technical Analysis of Stocks and Commodities and Direct Art Magazine. His work has become an integral part of numerous National and International collections.